E-Certificate
How
State Education Board
can generate and issue
e-certificates:
E-certificate system is an process by E-marksheet, E-Certificate, E-Degree, E-Fellowship/ Award letter, E-Transfer certificate can be generated and issued. The process is very useful for the following organisations:
State Education Board
State University/ Higher Institution
Online Courses/ MOOC platform
Testing/ Examination organisation
Few salient features of the E-certificate in comparison with paper certificate are as follows:
Safe to use: Chances for fraud/ misleads can be minimised
Long listing and fast to generate
Delivery in seconds
Cost effective solution
Convenient and easy way to receive the certificate / degree
User friendly tool for candidates: After receiving, the candidate can print it immediately or resend it through email to their potential employers/ institutions
The candidate can print as many copies of the E-certificate as it may be required
Safe for Environment: E-certificate is a soft file which does not require any paper, for it's production. In other words it saves paper consumption thus saves trees
FAQ.s: E-certificate process at State Education Boards/ University
FAQ 1: What are the benefits of the eCertificate solution to any State Education board?
Answer: The solution is being provided on Managed Service Model. KITINFINET take care of all work like Secure online storage, handling and maintenance of data, eCertificate portal, Procurement of eCertificate(s) ontime, Delivery/ Make eCertificate(s) available online, Correction(s)/ updation(s), Online verification, Payment Gateway Integration (if any) by which students can pay charges to the board, provide customised reports and allowing concerned Official(s) to access to real time reports/ data, tech support.
FAQ 2: How do KITINFINET ensure that no update will be made in any eCertificate without any order by Board/client?
Answer: This is not just an application but a complete process. Sufficient steps have been taken in this regards to make the process secure and in control of the Institution (Client). Addition/ updation/ modification/ withheld status can be initiated only after receiving 2 sets of layer security measure. The process allows to add/ update only after receiving 2 sets of successful login key combination of authorised officials of institution like controller of examination + Head - Computer section and 2 KITINFINET's authorised Executives.
FAQ 3: What is the procedure to download the eCertificate for students?
Answer: The service ensures that only eligible candidate/student can download her/his eCertificate(s) by entering under their secured login area. The candidate(s) can access their login area using following combination:
Entering 2 special information related to her/ him like their Examination Roll number and/or DOB and/or reg.ed mobile number or any other information allowed by the board.
Entering OTP received on their reg.ed mobile number (Optional). Note: The system initiates OTP process automatically, immediately as it gets required key combination successfully.
FAQ 4: What are main efficiency and security features of the eCertficate solution?
Answer: Our eCertificate solution includes world-class efficiency and security features. Some are as follows: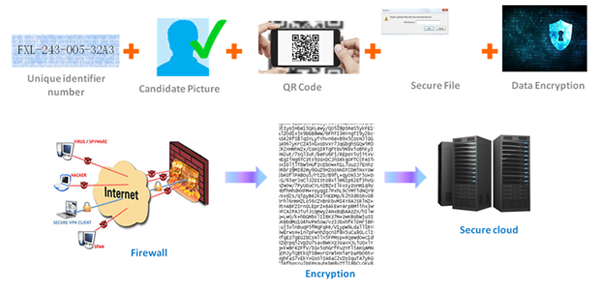 FAQ 5: Has KITINFINET provided the solution to any other government institution(s) so far?
Answer: KITINFINET conceptualised and implemented India's first eCertificate generation process and verification process in the year 2010. Since then, we have been providing the solution to some of esteemed organisations of India like University Grants Commission (UGC), National Testing Agency (NTA), SWAYAM and to many more…
FAQ 6: What are the charges/fee?
Answer: The service charge is very low in comparison with paper-print certificate generation, issuance and maintenance process. The service charge include - Generation of eCertificate(s), Issuance of eCertificate(s), digital verification of eCertificate(s), Secure online storage, Maintenance of data. To get an quotaion, email us at info[at]kitinfinet[dot]com.